I've seen the 29 Faces challenge around Blogland for a while now but always when it's a bit of the way through. It's starting again today so I'm jumping in. The challenge is to create 29 Faces within the 30 days of September. Any which way creatively - preferably human-ish faces. Hoping this will be a good way to be creative every day and try out some new techniques or brush up on my drawing.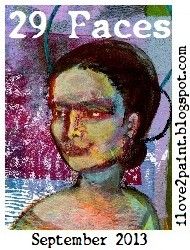 Ayala Art (the host) describes the challenge thus:
Get all your supplies ready to go. Make 29 faces in 30 days. 1 day of room to wiggle :oD
*Any style, any level of experience.
*All media welcome, all substrates.
*Unfinished projects are welcome too!
I'm still working my way through the ICAD challenge. (Even though the actual challenge is over.) I'm determined to have the full set of 61 cards... and also now, 29 faces - no more giving up half way through.
So my first face is collage on a 6x4" index card.
Magazine cuttings (her dress is a sofa!)
Scrapbook Paper
Index card is one used for paint mop ups/smooshings
White gelli pen
Black Copic & Biro
I think she needs something more - a little light tattooing like Virginia's tattooed ladies maybe. Still - as a first quickie to get me started - she'll do for now while I ponder her.
Thanks for stopping by today - back soon with more faces :)