Hello Strangers.
It's good to be back in Blogland after my mini absence. It was a combination of things: My PC going at a snails pace so I've mainly been using my tablet which isn't brilliant to blog on or leave blog comments - much as I love the thing. The Logey Bear is teething, so Craig and I are stumbling around like zombies through lack of sleep. I've finally finished Julie's Better Blogging class (or The Push-Up Bra Approach) which gave me lots of ideas... and I've been spending a lot of time (when the Bear allows) in my shed.
So my first positive (and I'm looking back over a couple of weeks here) is Julie's class. It's here. It's full of handy tips and advice to blog better, faster and more efficiently, with more content and how to pull that audience in. Some of it you might already do, some of it might be new to you. It's FREE and it's definitely worth a look. You'll need a notebook and pen ;) I definitely think of my blog as a work in progress so I've taken away some good advice for sure.
***
Next up, I ordered a new USB stick. I made some tea. I sat myself down in front of my PC and worked my way through all my photos (folders dating back to 2009) I sorted, I deleted, I sorted some more - arranging into date order, subject etc, etc. I deleted, deleted, deleted some more. Then backed it all up onto the USB... and rolled my PC back to factory settings. It took two days!
I only put the 2013 folder and my Art folder back on the PC, the rest is staying on my USB. I'm going zoom, zoom, zoom now!
I cannot tell you how much joy this has given me over the past couple of days.
Plus - I'm discovering things about my PC I never knew before. I can download apps like on my tablet - there are so many cool art ones! I can do that working on two screens side by side thing that you see on the TV adverts! I have Photoshop Elements on here! Whaaat?
It's like I have a brand new computer! Happy, happy!
Rainbows after the rain.
This gorgeous art postcard from Natasha all the way from New Zealand. You know what - I have this pinned up in my shed Natasha. I think when times are tough this could become a mantra.
Craig and I celebrated 11 years together. I say celebrated... he spent the evening with his birdies and I played with paint in my shed! The secret of a happy relationship! We are going out next week for his birthday though, so will make it a double celebration then. We joke a lot about our relationship but honestly - I don't know what I'd do without that man. I'm thankful for him every day even when his little idiosyncrasies drive me potty. I'm assured the feelings are reciprocated. (And I have way more quirks that he has to put up with.)
I've rediscovered and fallen in love with my sketchbooks. I had fallen into that trap whereby - I get little time to play, so everything I do must eventually be a finished brilliant something. And of course that never happens. Because I'm not practising. Then frustration bites. I wallow. I don't want to ruin my lovely sketchbooks.
I don't create.
Since having my shed, I've suddenly just let all that go. Just played in the sketchbooks. Not worrying that I'll 'ruin' them. not worrying that what I'm doing isn't perfect - just doing
something
. And having so much fun. And the
ideas
! The ideas that are just crashing in! I'm such an idiot! I have lots to share in future posts if you're interested! (Tough if you're not!)
Gratuitous Logey Bear pictures. Even when teething he's still a sweetie. I know, I'm biased ;)
***
I'm going to sign off soon as am so tired and it's getting quite late. I'll leave a little list of other things that have made my day, week or just moment in the time I've not been blogging. I'm sure there have been more but these stick in my mind :)
A new kettle = non-gritty, limescale free tea.

My girls all working hard at school and (for the most part) getting on with each other.

10pm bedtimes... even if we are woken up every hour or so.

Crispy, tangy apples... cheese and crackers.

Kleeneze Spider Repellent spray (Made from Chestnut Oil) keeping my shed spider free for over two weeks now.

Our local bootfair and the man who sells hot honey roasted peanuts there. Yum.

Lots and lots of online inspiration that I've signed up to. I'll list below.
Starting this week: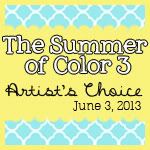 Self structured/work at own pace:
Introduction to Art: Concepts & Techniques. A free 7 week course
I hope to catch up on all my blog reading now that I'm all zippy and speedy. Get those kettle on :) If you feel like joining the merry band of Rockers please pop over to
Virginia's
and leave a link. We are a small but welcoming group. Most of us don't bite ;)
Thanks for stopping by - how have you been?